E-file Form 990-N (e-Postcard)

to the IRS in Minutes!
ExpressTaxExempt is an IRS-authorized, e-file provider committed to provide quick and secure e-filing solution to exempt organizations looking to file Form 990-N (e-Postcard) to the IRS.
Enter your EIN to begin filing a 990-N.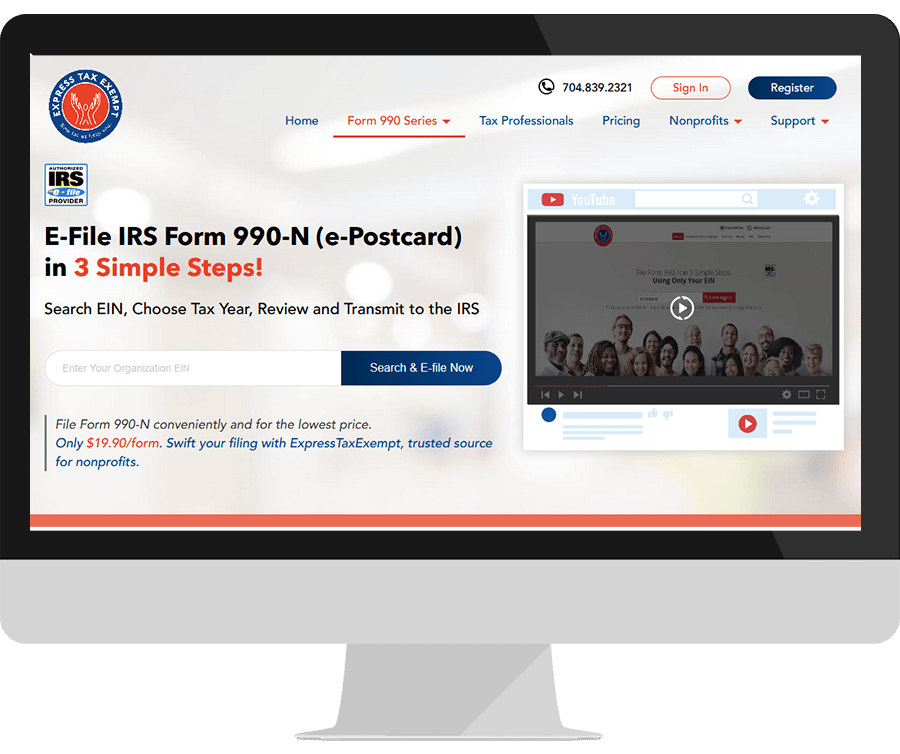 Easy Steps to E-file Form 990-N with ExpressTaxExempt
Step 1
Step 2
Step 3
Review Your Filing History
Step 4
Select Filing Year & Review Summary
Step 5
Pay & Transmit To The IRS
Step 6
Exclusive ExpressTaxExempt Features
Made to Simplify the E-file Process:
Easy-to-use User Interface
Access from Any Mobile Device
Web Based Software
IRS-Authorized E-file Provider
U.S. Based Customer Support
Safe & Secured Process
Convenient E-filing
Current & Prior Tax Year Support
Filing History & Summary Reviews
Instant Notification of e-Postcard Status
Free Retransmission of Rejected e-Postcard
Submission of Unlimited Returns with a Single Account
Pricing
$19.90 per Return
File for Current & Prior Tax Year
Instant E-mail Notifications
Re-transmit Rejections for Free
About
FileForm990N.com is a part of TaxBandits, an IRS Authorized e-file provider which offers quick, simple and secure e-file services specifically for tax-exempt organizations filing annual Form 990-N (e-Postcard) to the IRS.
Additional Services
TaxBandits also supports e-filing for IRS Form 990, 990-EZ and Extension Form 8868. Visit www.expresstaxexempt.com to learn more about the 990 form series.
Contact
Have any questions or concerns?
Call us at 704.684.4751 or email a message to support@ExpressTaxExempt.com